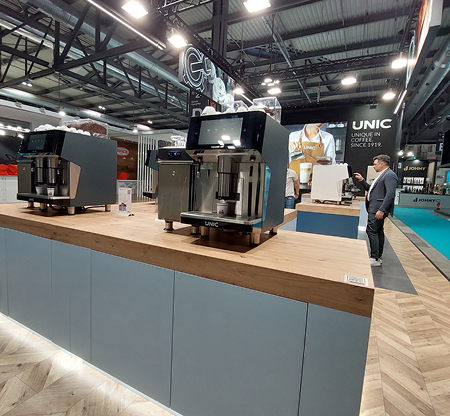 The promising edition of HOST Milano 2023
A look back at the highlights of a show marked by change and dynamism!
Ideally located at the entrance to Hall 24, the UNIC stand attracted numerous partners, visitors and global players in the coffee industry, who came from all over the world to enjoy an unparalleled coffee experience, from October 13 to 17. In a warm and elegant space, UNIC proudly displayed its new visual identity of a historic brand in the sector, whose technological expertise is entirely dedicated to the perpetual quest for the best quality coffee extraction.
This is precisely what the brand new TANGO XP super automatic range brilliantly demonstrated with exceptional brewing ratio, at the official launch of its 3 models Duo, Solo and Compact at HOST 2023. The legendary patented TANGO brewing unit confirmed its efficiency and ability to reproduce the expert gestures of a barista, guaranteeing unrivalled coffee extraction.
All the technologies patented by UNIC were highlighted in an area dedicated to the technical design of the TANGO XP. The most daring visitors took part in a timed dismantling of the machine, an opportunity to better understand how access to the main sub-assemblies has been carefully thought out to facilitate technical interventions. This "live" challenge created a real buzz around the TANGO XP, which was fully revealed on this occasion.
As for the traditional machines, the future CLASSIC unveiled its new look to coffee professionals, who expressed their eagerness to see it installed on their counters from the middle of 2024!
The entire UNIC team extends its warmest thanks to all those who came to meet us during the five days of the show. We look forward to hearing from you! Don't hesitate to share your testimonials with us, or to ask us about your needs. Our experts are here to advise you!
OTHER NEWS
Want to discover the Unic coffee experience? Find now the Unic coffee machine made for you.